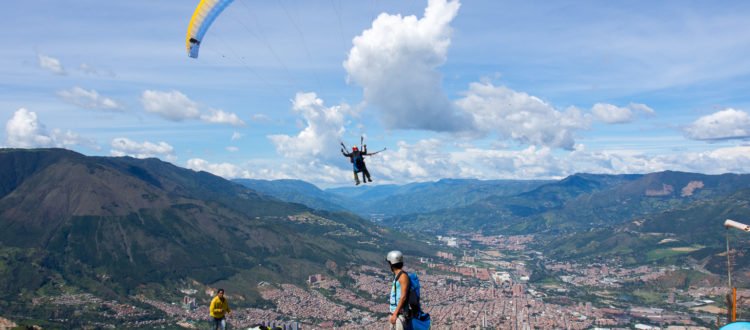 The Colombian Andes
Experience a unique sensation of paragliding over Medellin
Enjoy an amazing paragliding flight with an experienced instructor
Discover beautiful natural features of the region
Paragliding is an adventure sport that captures the wind and take you soaring above the ground to gain a 360 degree view of the mountains and sky.
Flight preparations begin at the takeoff ramp, which is located up a short hill from our office in San Felix. You will check in with photo identification before entering the grassy ramp area. Please do not forget to bring your passport, as you cannot enter the ramp without valid photo ID!  Your pilot will provide you with a helmet and harness and help you adjust them so that they are properly set up. We will instruct you how to run for the takeoff, sit comfortably in your harness, and prepare yourself for landing. When you are ready, an assistant will help you and your pilot take off smoothly and soon you will feel the weightlessness of a bird. ( Blog )
Your flight will last at least 10-20 minutes. If you would like a longer flight, please notify your pilot before takeoff so he can plan accordingly. We hope you come away from your flight full of adrenaline and energy – already excited for the next time you can see the world from the air!
You can see additional tours and services at our sister company Colombia Rock Star Tours