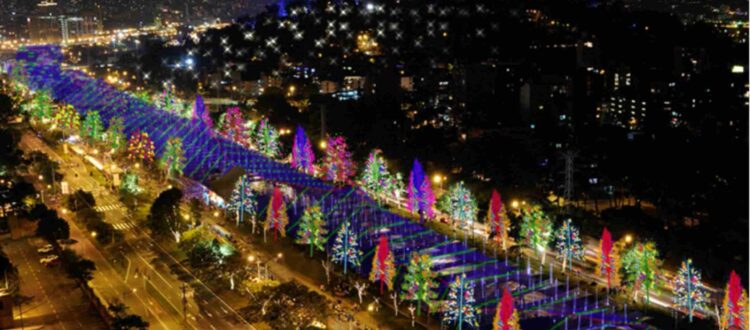 The Festival of Lights is one of the most important celebrations in Medellin, where countless colorful lights adorn the most iconic public squares and plazas. It has been voted one of the top 10-holiday lights destinations in the world by National Geographic.
The Festival of Lights
More than 4 million tourists visit Medellin during the holiday season as millions of Christmas lights transform the city at night. A series of cultural events and concerts are held during the festival. The Christmas lights in Medellin are known as "El Alumbrado"
The Lighting.
The Museum of Antioquia offers free admission for everyone during the holiday season. Christmas lights illuminate the area around the Medellin River and La Playa Avenue. Over a hundred other locations over 16 sectors around Medellin are also decorated in recent years, including Botero Park, Nutibara Hill, 70th Street, 80th Street, 33rd Avenue, and Las Palmas Road.
The lights are switched on from late November; however, the official start date for the festival is Dec 7, the Day of Little Candles. Little Candles Day (Día de las velitas) is a widely observed traditional holiday in Colombia. It is celebrated on the eve of the Immaculate Conception, a public holiday in Colombia. The lights are switched on each evening at 6 pm.
El Alumbrado is the perfect time to visit Medellin with balmy weather and a carnival-like atmosphere as the city pulses with new life. The sidewalks are packed with food stalls as giant 3d figures twirl along the Medellin River.
Tours by Colombia Rock Star Tours ( Our sister company )
Transportation by Medellin VIP Transport
More on our blog